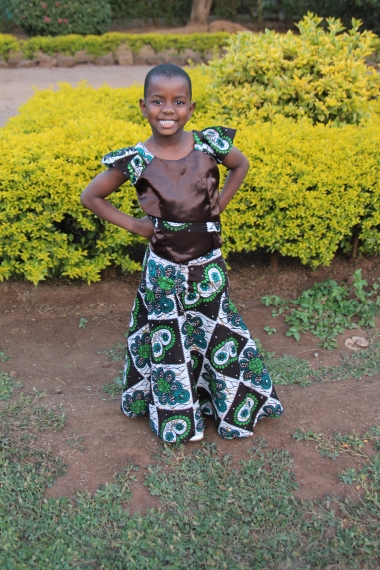 If ever a child was aptly named - 6 year old Zoe - whose name comes from the Greek word which means "life" - is that child. Bubbly, energetic and always on the move - this little girl exudes life with her winning smile and the sparkle in her eyes.
Abandoned at the hospital by her mother shortly after birth, Zoe arrived at Treasures of Africa Children's Home as a newborn infant. With no name and no clothes, she was quickly showered with loving care and given a name by our Medical Director Jodie Schooley, that was prophetic of the personality she would soon display.
Zoe is athletic and loves to play outside and can often be seen scaling to the top of the playground equipment with the agility of a gymnast. She also loves to sing and will often boldly lead out in song during the children's evening devotions. Her dynamic personality makes her a natural leader. She is as close as natural sisters could ever be - with Diamond and Maria - (also six year olds) who have been together with Zoe at TOA since infancy.
Zoe is bright and has excelled in our in-house pre-school. She loves to read and we feel confident that when she begins school in January, that she will quickly rank in the top of the class. We plan to enroll her in a Private English Medium Primary School as she is fluent in English and Swahili.
School fees and other academic related expenses are the one of the biggest challenges the orphanage faces each year. If you would like to help sponsor Zoe's academic expenses - the cost for the year is $1,300.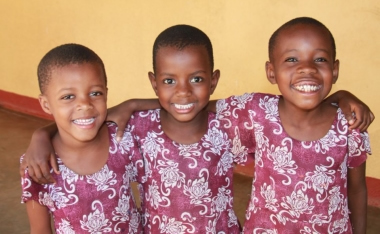 Americans are estimated to spend close to $600 BILLION dollars during this holiday season - WHAT IF WE ALL GAVE A TITHE (ten percent) OF WHAT WE PLAN TO SPEND AT CHRISTMAS and directed it to BLESS ORPHANS????
Treasures of Africa Children's Home is trying to raise money for a CHRISTMAS FUND for the kids at TOA. In Tanzania - it is not the tradition to give out lots of material gifts at Christmas - but in families that can afford it - each child is given a new set of clothes and new shoes and a special Christmas meal is a big part of the celebration.
We want to buy each child at TOA a new outfit and shoes for Christmas, plus have a big FEAST on Christmas Day at the orphanage. We would also like to replenish the sporting goods at the orphanage - with new soccer, tether and basketballs, jump ropes, frisbees and the like.
Since the children are out of school in December - we would also like to take the kids and staff on a special outing to a beautiful lake about an hour away - where they can sit and have lunch at a restaurant that overlooks the lake and make a very special Christmas memory. We would also like to bless our hard working Tanzanian staff at the orphanage with a Christmas bonus - that will help them pay school fees for their own children. These are our Christmas DREAMS for Treasures of Africa Children's Home.
Would you SHARE a little of your Christmas budget with orphans? And SHARE THIS ARTICLE to encourage others to do the same? Thank you!