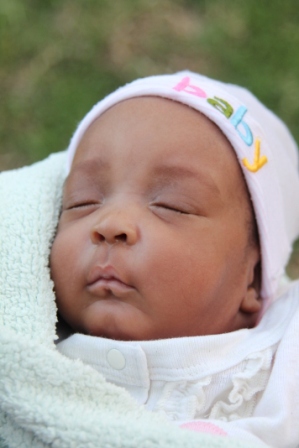 There are few experiences in life that can match the joy of seeing an abandoned child rescued and placed in a loving home. Though an orphanage is not the ideal setting for raising a child – loving families were God's design – we try very hard to create a loving environment for all the children who are brought to us.
When we made the announcement that a new baby was on the way to Treasures of Africa, our children literally jumped and squealed for joy. When she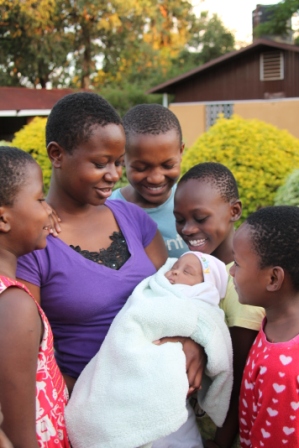 finally arrived, their tenderness toward this tiny infant was so heartwarming to watch.
Weighing barely a kilo (2.2 Pounds) when she was found abandoned in a rural field, doctors at the local hospital determined that she was premature at birth.The infant child spent more than two months at Kilimanjaro Christian Medical Center before being placed at Treasures of Africa weighing just over 5 pounds.
Her story bore a sad but striking resemblance to that of our now 7 1/2 year old, Diamond. So in order to speak value over her (like we did with Diamond more than 7 years ago) we decided to name her Ruby Joy. She is a quiet, peaceful and absolutely beautiful treasure!
After three weeks of loving attention and lots of consistent nutrition, Ruby Joy nearly doubled her weight from 5 pounds to 9.9 pounds. Though we had a momentary medical concern, she has gotten the "all clear" from the doctor and continues to thrive without any medical issues.
We were thrilled to make room for another baby at Treasures of Africa, with a crib set up in the room where both 15 month old Gabriella and 13 month old David sleep. The addition of a newborn means more diapers, more formula and additional round the clock staffing. But Ruby Joy is worth the time, money and effort required to see her have a new start in her very young life.
If you would like to be part of "Ruby's Rescue Team" you can consider becoming a Child Sponsor for Ruby Joy. It takes approximately $120 per month to care for a child at Treasures of Africa. Perhaps you and 3 friends could sponsor Ruby for $30 per month and fully cover her needs. She is a precious gem that is worth caring for! CLICK HERE TO SPONSOR RUBY