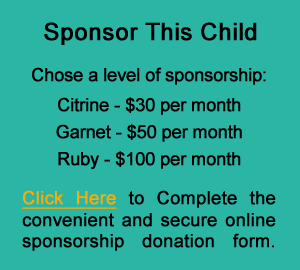 weeks later, her sister died of AIDS related illness as well. Margaret was only 12 years old at the time. Because her grandmother was old and unable to care for 3 young children, the responsibility of caring for her sister's two young children - who were four and six years old - fell on Margaret. This was a heavy burden for a 12 year old. Their situation was discovered by the Welfare authorities and the three children were brought to Treasures of Africa.
Without the responsibility of raising her niece and nephew, Margaret was able to concentrate on her school work and enjoy life as a normal teenager. She just completed a huge milestone this year by graduating from Secondary School - Form Four - equivalent to 11th grade in the U.S. This was an achievement that would have been very unlikely if she had not come to live at Treasures of Africa. We are now searching for an advanced Secondary School (Form 5 and 6) for her so that she can prepare herself for eventual University Study.
Although she is very quiet and shy, when it comes to singing for the Lord she is not shy at all. She has a beautiful voice and loves to sing and glorify the Lord. She often leads choir songs and wants to become a singer some day. We praise the Lord that now Margaret's future has endless possibilities!